Administrator
Staff member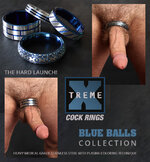 XTREME BLUE BALLS COCK RING COLLECTION - THE HARD LAUNCH​
If you've been paying attention you'd know we soft launched our new exclusive Xtreme Blue Balls Cockrings a while back. But due to scheduling and some other unfortunate events, we couldn't get them shot on our models. Well, we got our model William Miguel and brand new model Kyle in the studio, got them shot so now we're relaunching them. We're calling it the Blue Balls
Cock Ring
Hard Launch for obvious reasons (just look at our photos!)
As we all know,
cock rings
are designed to get you hard and keep you hard and are the perfect companion to your long edging sessions - hence the name of our latest heavy metal
cock rings
: introducing the Xtreme Blue Balls Collection. There's four to choose from: Xploder, Barracks, Strike Force and Sniper.
These rings are all pretty hefty and all made with 304 Stainless Steel that are smoothed around the edges where it's needed and the stunning blue is accomplished using a modern technique to color steel: It is a Plasma Spray Coating Process applied using a high temperature process, where powdered coating material is injected into a plasma plume. the material is rapidly heated and then accelerated toward the substrate - in case you really wanted to know.
Here's a brief description of the four rings:
The
Xtreme Blue Balls Barracks Cock Ring
is the widest (thickest) of the four in this collection. It's a very masculine one inch wide and the thickness will help in keeping you harder longer. Designed with an offset brick pattern or wall, alluding to being hard, solid and thick - all the things you want to be associated with your manhood. In stainless steel with the grooves and inside all in blue.
The
Xtreme Blue Balls Sniper Cock Ring
is the more subtle, streamlined and stealthiest of the four rings in the collection. But don't be fooled, it's still has a good weight to it and when you're good and hard (and you will be), guaranteed you'll be noticed.
With the
Xtreme Blue Balls Strike Force Cock Ring
, you'll be rock hard and at the ready before they knew what hit them. It's a stunning ring in stainless steel with engraved diagonal blue stripes with blue edging the ring and blue inside.
We're very proud of the
Xtreme Blue Balls Xploder Cock Ring
- mostly because the pattern is made up of the X in our Xtreme logo. But let's get down to business - slip on this awesome looking ring and you'll be erect in moments edging to that final explosive outcome - hence the name. It's a stainless steel ring with slightly rounded outside in brushed steel with repeating pattern made of engraved blue Xs with a solid blue inside as well.
In case you don't know,
Xtreme Cock Rings
is one of
Jockstrap
Central's own brands and exclusive to us.
CLICK HERE FOR XTREME AT JOCKSTRAP CENTRAL
* I'll be posting some of our photos of William and Kyle in the Blue Balls
Cock Rings
here shortly